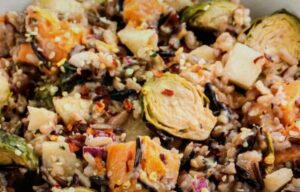 The Okinawan population in Japan has one of the longest life expectancies in the world. Researchers believe that this is due in great part to their plant-forward diet — including sweet potatoes, which make up approximately 60 percent of it. Sweet potatoes are chock-full of carbohydrates, including an outstanding source of fiber, as well as carotenoids that act like antioxidants and scavenge free radicals in the body. This salad also includes Brussels sprouts, pecans, red onion, and pear (one fruit that's also known for its high fiber content!) making it a fiber smorgasbord filled with incredible flavors and textures, as well as plenty of nutrition to prevent and control diabetes.
Ingredients –
Roasted veggies –
1 lb brussel sprouts
2 cups sweet potato (with skin cut into 1" cubes)
Dressing –
3 tbsps. Tahini
¾ cup orange juice (freshly squeezed)
3 tbsps. organic apple cider vinegar
1 tbsp dijon mustard
Salad ingredients –
½ cup red onion (diced)
2 cups organic wild rice (cooked)
½ cup organic pear (diced)
1/3 cup pecans (chopped or pumpkin seeds)
2 tbsps. of hemp seeds (hulled)
¼ tsp. salt (optional)
¼ tsp. pepper (optional)
red pepper flakes (optional)
Directions –
Preheat oven to 375 degrees F and line a baking sheet with parchment paper.
Place Brussels on one side of the pan and sweet potato on the other.
Bake for 30 minutes, tossing halfway through until they are tender.
Add dressing ingredients to a small bowl and whisk till smooth.
Transfer veggies, red onion, rice, pear, and pecans to a large bowl and mix well.
Pour dressing over top and mix again
Stir in Hemp seeds and taste for salt, pepper, and red pepper flakes.