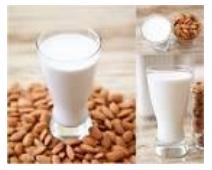 INGREDIENTS:
4 CUPS OF WATER
1 CUP ALMONDS, SOAKED OVERNIGHT AND RINSED
1 TSP VANILLA EXTRACT
1/8 TSP KOSHER SALT
INSTRUCTIONS
Add water and soaked almonds to jar in order listed and secure lid. Select "Whole Juice." Strain milk through nut milk bag or cheesecloth to remove almond skins and pulp.* Rinse blender jar, place strained almond milk back in jar with remaining ingredients and secure lid. Press "Pulse" 3–5 times to combine thoroughly. Serve or store in refrigerator for up to 3 days. Settings will vary depending upon the type of blender you have. Highest setting will do the trick.