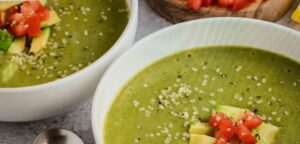 Who needs cream when you have veggies? Ditch the saturated fat and add nutrient dense, disease-fighting vegetables like potatoes, leafy greens and white beans that create creamy textures and rich flavors that are good for your health.
Ingredients 
1 cup onion chopped
1 cup organic celery sliced
1/4 tsp celery seed (optional)
3 medium garlic cloves roughly minced
1 1/2 cups Potatoes cubed
1 1/2 cups white beans homemade or BPA-free canned, drained
4 cups vegetable broth unsalted, preferably homemade
3 cups organic arugula roughly chopped
1/2 cup cilantro (optional) roughly chopped
salt & pepper (optional) to taste
2 Tbsps hemp seeds hulled
1/4 cup avocado cut into ½" cubes
1/4 cup organic tomato diced
4 Lemon wedges
Directions –
– Heat a large stovetop pot on medium-high heat. Add the onion and celery, cooking for 5–7 minutes or until the celery is tender. Add the celery seed, if using, and garlic and cook for an additional minute.
– Add the potatoes, beans, and vegetable broth. Bring to a boil then reduce heat to simmer until the potatoes are tender, about 10 minutes.
– Add the arugula and cilantro, if using, and cook for an additional 2 minutes or until the arugula is bright green.
– Let the soup cool a bit before transferring to a blender. Blend until smooth and creamy. Taste for salt and pepper, if using.
– Top with sliced avocado, tomato, and a sprinkle of hemp seeds.
– Divide between four bowls and serve with lemon wedges.