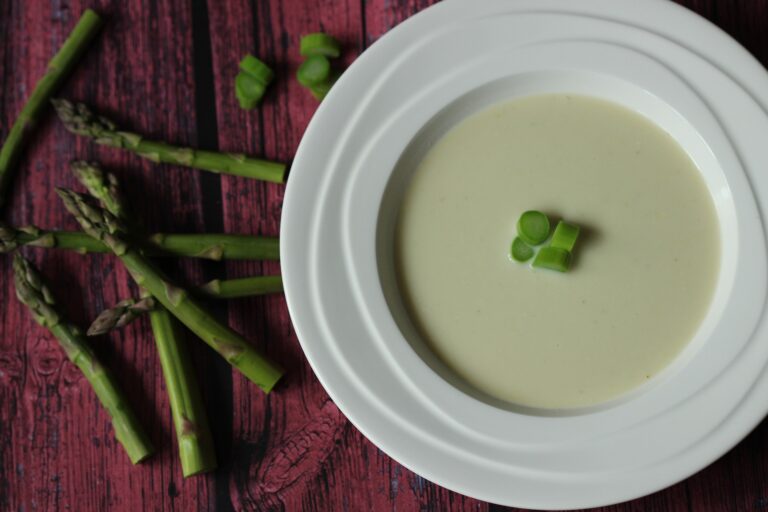 Ingredients:
1 tablespoon coconut or olive oil
2 leeks
8 – 10 fresh tarragon leaves or 3/4
teaspoon dried
1 cup dried red lentils
1 1b. asparagus
6 cups vegetable broth or water (I used a combo)
mineral salt & fresh cracked pepper, to taste
juice of 1 lemon
Prep veggies: Trim both ends off the leeks, we'll be using the white and light green parts only. Make a slit down
the center lengthwise and run under cool water to remove any debris/dirt that may have collected between the
layers. Lay on flat surface, thinly slice widthwise. Trim asparagus ends and discard. Cut remaining asparagus into
1 inch pieces.
Cook: In a large pot or dutch oven, heat oil over medium heat. Add leeks and saute for about 5 minutes, or until
softened. Add in tarragon, lentils, asparagus, vegetable broth and salt & pepper. Bring to a boil, cover, reduce
heat and simmer for 15 – 20 minutes. Let cool a bit. Using an immersion blender, puree soup until desired
consistency. You can also puree using a blender or food processor (this method will most likely require you to
puree in 2 batches). Once pureed, add back to the stove and add juice of 1 lemon, give a good stir. Add more
water as needed to thin, no more than 1 cup should be needed. Taste for seasoning and heat on low as needed
to warm.